More joined up management of the Welsh moors creating a continuous landscape to restore habitats is the challenge of recovering bird species, says Huw Lavin, who started as an apprentice on the Powys Moorland Partnership project 3 years ago.

With a keen interest in game-keepering from school days, Huw spent weekends and all holiday's out with a local keeper to learn all the skills needed to protect grouse and all other ground nesting birds.

"It's the only job I've ever wanted," he says, and after two years at Newton Rigg college he landed a full-time job as a keeper on a grouse moor in Wales which is a rare find.
The main problem in Wales is that grouse has disappeared from most of the heather moorlands over the past 30 years as grouse shooting declined, but Huw believes that if we really want to see them recover along with other ground nesting birds there is still time, just, but many more people are needed on the ground.
He believes that in just three years, despite the weather not being conducive to increasing the grouse population, the number overall has flourished once the management to restore the habitats and keep predators under control was implemented.
"We need more people doing the same thing so that we connect up larger areas of land and create a proper continuous landscape scale programme to recover some key upland bird species," he says.
"We need more people doing the same thing so that we connect up larger areas of land and create a proper continuous landscape scale programme to recover some key upland bird species"
Huw Lavin
Apprentice on the Powys Moorland Partnership project 3 years ago
But Huw believes the job of a gamekeeper is so much bigger than ever and probably needs re-naming as the role does so much more to boost biodiversity.
"We are very much in the spotlight of the media so we must get our story over in a positive way," he says, and that means taking in everyone's point of view. It's not the fault of the public on how they have formed their views with all the pressure that is out there but, we have a responsibility to make sure we message effectively and not aggressively and that has to start with the children.
Huw has hosted several groups of children from Hay and Clyro primary school to explain his work.
"What is great is that they get it and understand that to protect the ground nesting birds we have to protect them from the masses of predators that the Welsh countryside is full of," says Huw, who explains that to manage the homes of the grouse, a mosaic of heather needs to be created so there is short heather for the food source and longer heather for shelter and nesting.
Huw with kids from Hay primary
We have to keep engaging with the public and find different ways of helping people understand the complexities of moorland management especially as Welsh Government is encouraging more people to get outside and connect with nature.
"It's a special place to work and moorlands are magical so it's right that more people should experience it, but respecting each other is going to be the biggest challenge."
Huw has now moved to a top well established grouse moor in the Angus Glens of Scotland as a grouse keeper where he will be one of 11 keepers.
Catherine Hughes
Sustainable Management Scheme facilitator

Huw with chairman of Game & Wildlife Conservation Trust Wales
It is a way of life where time has stood still. As I rode alongside Anne who has been riding these Radnorshire hills for over 60 years, she believes very little has changed.
At 85 years of age, she believes that other than it being a lot drier than it was, and the bracken continuing its fight to take over the heather, everything else is pretty much the same. With 10 of us on horseback plus another 20 or so on foot with dogs, the stunning views as the weather goes through all seasons in one day is relished by everyone who lap up the energy of these heather coated hills. And with 23 grouse flying over our heads as we canter along, the day captures the magic of these diverse landscapes.
It never seems to fade; the excitement of being up on the open hills where you can look across to Snowdonia, Aberystwyth around to the Shropshire hills and beyond. "You would pay a lot of money to do what we are doing today" said one man as we chatted about the rising cost of mental health in Wales. This community knows each other well and completely love their days together with their beloved horses. In fact a group of them ride every August from the area to Ynys Las beach near Borth staying in barns using sleeping bags covering 80 miles over 3 days and have done so for the past 20 years.
Darren and Sheila joined the day. They moved recently from the hustle and bustle of the south east and have thrown themselves into the community and clearly loving every minute of it and in so doing are already part of the community. "We are just so welcomed here and it was an opportunity to start riding again after many years," says Sheila, who had a bad accident many years ago. Sheila helps out with the local farmer at lambing times and Darren has got involved in a number of jobs from clearing streams to restoring ancient monuments on farmland.
As the day closes, the sun lowers there was a silence as the horses lower their heads and move downhill towards home. For me there was a longing to be horizontal with a guaranteed and exceptionally well earned sleep. Thank you.
Catherine Hughes, Powys Moorland Partnership facilitator
A brief history of red grouse shooting 1900-1960s
As indicated by the graphs below, from 1900 to the end of the Second World War Powys enjoyed large numbers of grouse. The Beacon hills for example had so many grouse that the owners created a shooting lodge and train station to help people from London to enjoy its sport. It has a section of heather known to many as the Millionaire's Mile in honour of the grouse drive over this area.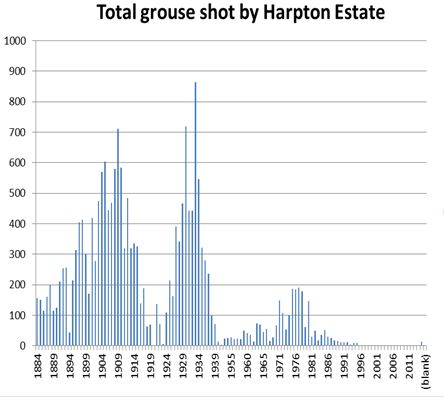 1960s – 1990s
After the War, a great deal of Welsh heather was lost due to conifer planting and the emergence of the Common Agricultural Policy which paid farmers according to stock numbers. Raptor numbers started to increase at the end of this period and grouse eaters like buzzards and hen harriers became protected species in the early 1980s.
By 1990 Ireland Moor and Gladestry were the best areas for grouse, but the number of birds shot and the number of moors with keepers had declined sharply. There were just ten keepered moors in Wales in 1990, with only 640 birds shot that summer.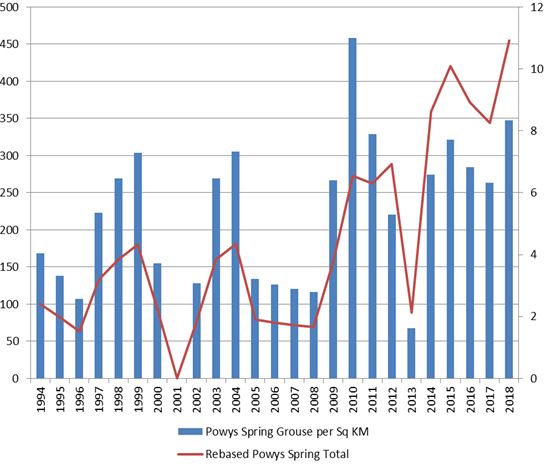 2010-present
By 2010 there was not a single moor in Wales with a full-time grouse keeper.
The catalyst for change came in 2015 when the Welsh Governments Nature Fund sprinkled seed funding across nine moors, leading to keepers being employed to bring their management expertise to these neglected areas.
Thanks to the combination of Government support and private investment there are currently five full-time grouse keepers in Powys.
Aims for the future
As this Game & Wildlife Conservation Trust graph shows, red-grouse numbers in northern England have recovered well since 1990. In Wales this has not yet happened. Although the aim is not to achieve the densities seen in northern England, we are committed to creating a sustainable surplus of numbers so that we can support shooting of this economically important bird. This will require sensitive land and predator management with the emphasis being on creating sustainability for all – including flora, fauna, human, and community.
The spring count
Thanks to many recent years of hard work from the moorland keepers, the recent counting shows that the pairs of grouse this spring are more numerous than they have been since the 1970s.
The area counted is the moors above Painscastle (Ireland Moor) along with Gladestry, Gwaunceste and Beacon hills.
With that said, the percentage of the grouse that died during the winter due to predation and natural causes was over 40% across all Radnorshire moors – the yardstick to aim for is 30%.
This chart shows the grouse per square km (per 100 hectares) and an index of the increase in spring grouse since 1994.
Keep in touch, get involved.
We will be putting on various events over the next 12 months. If you would like to get involved, have some ideas please contact Catherine on urmyc.sdnalroomsywop@tcatnoc